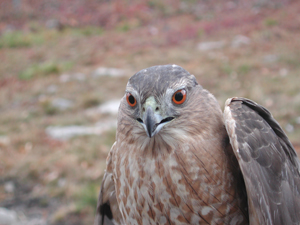 Superior Bownet & Design
There is No Equal
About Us
Superior Bownet began with the desire to build the best bownet available. To accomplish this we realized that the product had to be the most reliable, quietest, fastest, lightest and most of all, the safest available.
Our quest to develop the most durable and indestructible bownet available for raptor banding and wildlife research began some 20 years ago. After driving over two hours to the banding station on a perfect late November day (well, perfect for some people!) with temperatures in the teens and a 25-knot wind, the setup was done and the flow started. Birds were streaming down the ridge in masses, stooping into the setup one after another and on the 7th release it happened. The releasing hoop failed right at the point of its greatest stress. Forced to sit idly and watch hundreds of raptors stream by, I vowed NEVER AGAIN! The hunt for a superior design and the materials was on!
That was more than 2 decades ago. The nets that evolved out of that frustrating day are simply the best you will find anywhere. For the past 20-plus banding seasons, we have been using the first 2 prototype nets made. To date they have been fired over 2500 times each with no failures whatsoever, of any kind. Truly a net designed and built for harsh, high production use!
Additional minor improvements since the first two nets further guarantee lifelong, trouble free operation. No expense or detail in their design, materials or hand construction has been overlooked. Designed, manufactured and assembled by a U.S.F.W.S. Raptor Bander.
About this site
Bownets.com is designed to educate as well as display current and newly released products. We recommend that you study the entire site in order to fully understand the use and operational characteristics of the equipment contained herein. Should you require additional information or have a special request please Email us. We hope you enjoy your visit.
We know that you will find our product to be superior to any other bownet out there. WE GUARANTEE IT.
Please contact us at bownets@gmail.com if you have any questions about our products.