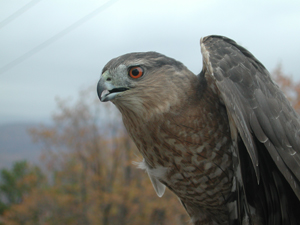 Superior Bownet & Design
There is No Equal
Product Information
Bownet Basics
Size and speed determine the safety level of any bownet. If a bird or animal is not "pegged" or centered when a net is released (which should never happen) or lunges during the release, a large, fast net will allow for this margin of error. Speed affords the greatest margin of safety: the faster the net goes over the animal, the less time they have to affect an escape.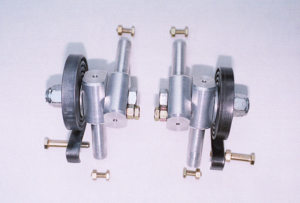 Thousands of birds and animals of all types have been secured with Superior Bownets without even as much as a bent feather. Large enough to go over a Hag Golden and fast enough to snag a flitting Sharpie, with common sense and little care, our bownets will prove to be safe, durable and trouble free. We are certain if you use our net you will prefer it to all others. We do not recommend lending it out.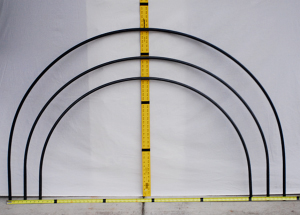 Every component in the construction of a Superior Bownet has been carefully selected to insure the utmost in quality and reliability. From the precision formed 4130 chrome moly aircraft hoops to the machined aluminum grade aircraft ends and grade 8 hardware, time and repeated use has proved these materials to be the perfect combination for this given task.
Our bows come in small, medium, large (not shown) and extra large, details available on our shipping and pricing pages. All components made in the USA.
3/4 inch square knottless nylon netting comes standard with every net or kit. People have actually driven their trucks and other vehicles over these nets with no damage.
Please contact us at bownets@gmail.com if you have any questions about our products.
Low Profile Design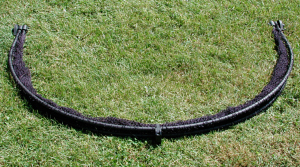 The unique hinge pivot and coil spring design allows easy transport and storage. When you are through, simply fold it backward, wrap the net around the hoops and you're ready to go. Best of all there's no assembly or disassembly time wasted setting up or tearing down which means less time outside in the elements and more importantly, less chance being seen. There are no small parts to loosen up, loose or break. Photo: When armed, nets sit around 2 to 3" above ground level, less if you dig it in a little.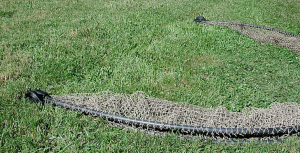 This bownet is shown with naturally faded netting. After a year or two of use, the netting fades to this natural shade if you don't fix it with salt as the Rit dye instructions suggest. Rodents love salt and they will love chewing up your brand new net. If you buy a kit and dye the netting, DO NOT use salt to fix the dye!
Coil Spring Construction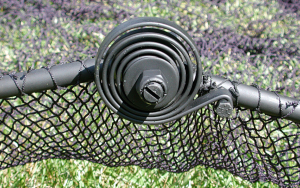 This photo shows our bownet under "natural preload" before staking down. The adjustable preload feature will give you years of service from these high quality springs, springs, are the heart of any bownet.
The coil springs used on Superior Bownets are flat wound hot rolled spring steel. These springs have 50% more steel and tensile strength than any other net springs available, which means they won't wear out, or lose their strength as quickly as other style springs.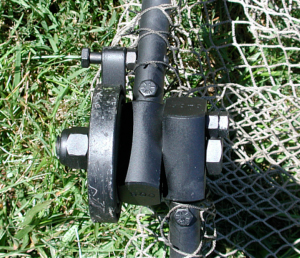 There are 3 Pre-load adjustments available, we recommend you keep it at the setting as shipped. This setting affords the speed necessary for safely securing all but the fastest of wild animals while offering preload to keep the hoop down and the animal from lifting the net after the net has been released. You may want to set the pre-load at the next fastest position before trying to capture any of the big cats.
This photo shows a top view with the preload adjusting mechanism. Simply remove the large locking hex nut and push the 5/8" bolt through the ends until the head clears the stop bolt. Turn the 5/8 bolt to the desired position, push it back through, reinstall the large locking hex nut and tighten. As the metallurgic content of the spring's change from years of use, you can compensate for this with this preload adjustment. These springs are so superior to any others available, that after 20 years of use and a few thousand birds and other animals, I still haven't had to adjust the preload.
Fully assembled nets are shipped ready to use - no assembly required. Stake it down, (minimum of 2 stakes required as close to hinges as possible) run your release line and you are ready to work. Each net is precision manufactured, hand assembled, fine tuned, test fired repeatedly and approved for shipment or it doesn't leave. Net color is available in either black or white. Quality assurance is our top priority.
Semi assembled nets has been painted, dyed, fully assembled, test fired and then disassembled for shipping purposes. Semi's have the netting threaded on the hoops and can be assembled and put to use in ten minutes or less. Assembly simply requires inserting the hinge assemblies and tightening the 4 nuts and bolts. Install and tighten the spring foot stop bolt and the release of your choice. Net color is available in either black or white.
Pre drilled net kits are drilled and tapped for all fastener hardware. Assembly requires painting the hoops and dying the netting for an all black net. The netting needs to be threaded onto the hoops, hinge assemblies inserted, then install and tightening the hardware and release. An hour and a half assembly time is required. (Not including dying and painting)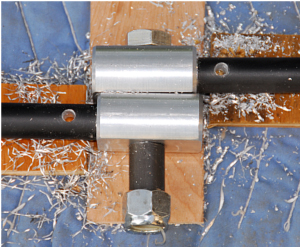 Basic net kits include 2 precision-formed hoops of the correct lengths (no trimming required). 2 complete hinge assemblies, netting and necessary hardware for completion. Assembly requires painting the hoops and dying the netting for an all black net, Tools required for assembly are: Electric Drill, File, Hammer, Tap Handle, 1/4" & letter F Drill Bits, 5/16" x 18tpi Tap, Center Punch, 7/16", 9/16", Crescent Wrench. Assembly can be accomplished in as little as two hours. (Not including dying and painting)
Photo of drilling ends: part of the assembly process.
NETTING
The netting material is a knitted, knot-less, nylon material with a breaking test strength of 90 pounds and a mesh size of 3/4" square (1.50" stretch). The standard colors available for the Fully Assembled and Semi Assembled nets are black and white (white for trapping in snow) If most of your trapping is done in an area the sees little snow, we recommend black. If your trapping takes you to the arctic or other locations where there is snow on the ground year round, white is the preferred choice. Will have a pic someday
The pre drilled/tapped net kits and the basic net kits come with white netting only. If you need a net in black, the netting must be dyed and allowed to dry thoroughly before threading it onto the hoops. Rit dye is recommended, dying time is about half an hour.
RELEASE OPTIONS
Two different release options are available: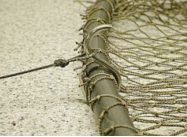 S-Hook: The S-Hook Release has been used for many years and is the simplest and most economical method for releasing the net. It can be set for a hard pull or for a hair trigger. One of the many drawbacks of the S-Hook Release is that the line is in mid air between the net and your station, allowing anyone outside to trip the net accidentally by snagging it or stepping on it with their feet. This includes humans, animals and birds blowing through the setup. I can't tell you how many times a raptor has stooped the bait and snagged the line with their feet on a return trip or has actually slammed the hoops of the net, releasing the S-Hook and accidentally firing the net. One time I had a vulture land and walk all around the net checking the bait out. I had the S-Hook set for "hair" trigger and eventually she snagged the line with her feet and released the net. This has happened so many times with eagles and just about every other inquisitive animal that "feels" they must "investigate" the situation before jumping on the bait. My biggest problem was always with visitors to the banding station. No matter how many times I would point the release lines out to them, they still trip them in all the excitement. The Posi Lock Release has solved these issues.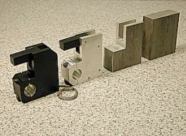 The Posi Lock Release: Years of building and refining nets and releases have led to the development of the Posi Lock Release. After trying many kinds of combinations and different release designs, those who have seen or used the Posi Lock Release have concluded that it should be on every net, no matter who made it.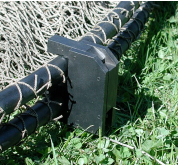 The Posi Lock Release is a precision machined, hand fitted and assembled unit that incorporates aluminum housing and Acetal Delrin internal components. Delrin is a thermoplastic that exhibits superior abrasion resistant properties, non-lubricated operation and most importantly noise dampening qualities. The line exits the release at ground level making it virtually impossible to false fire the net by snagging and is activated by a short, light pull. It has a positive "snap" when setting allowing you to set the net quickly and know the net is set properly when your rushing around pulling birds out, spreading camo and yelling at people to get back into the blind. The Posi Lock Release is easily adaptable to any remote control radio system (supplied and configured by end user). If you are running two nets and have the opportunity to release both at the same time, the Precision of the Posi Lock Releases allow both nets to be fired within milliseconds of each other, nearly eliminating human error and any risk of injury. After all, we are talking about safety for the animal and you.
---
NATURAL AND EASY CAMOUFLAGE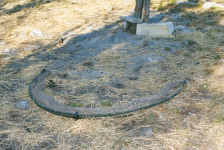 A staked down net before camo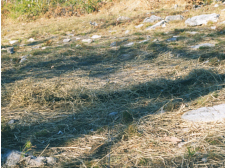 After some hay camo from the back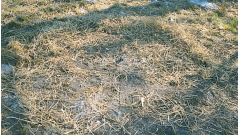 From the front, what animals see.
Superior Bownets come in two colors. Flat black is recommended for general trapping, unless you are trapping in sand or snow. Over many years of trapping and banding, we have noticed that animals pay little, if any attention to flat black objects in their field of view. Glaring, shiny, reflective, out of place colors and unnatural colors must be avoided. Over time the paint and netting will fade and the net will take on a more camouflaged appearance naturally.
The low profile design of Superior Bownets allows for quick and easy camouflaging. This is a very important topic to consider, as you don't want to be caught outside in plain sight spreading camouflage around anymore than necessary, especially on a high flow day. Considering that the net design when armed allows the net to sit at a scant 2 to 3 inches or so above ground level, camouflage is more easily retained on in windy conditions. You can tuck it in between the hoops and under the fixed hoop for even greater security. You can also "dig the net in" if you want it lower. Over the last 20 years I have wanted to "dig a net in" and try it but I have had such great success with just staking these nets down that I don't see a need to. Spending as little time as possible outside is key, you never know what might be watching you.
WARRANTY
Fully Assembled nets come with a lifetime warranty and are serial numbered to the original purchaser. Any other version: Semi, Pre drilled, or basic nets, that require assembly by the end user, are not eligible for the warranty. If assembled correctly, with fasteners tightened as recommended these nets will outlast you and all the times you run them over with your vehicle. Detailed assembly and use instructions are included with every net purchase. The warranty really is a moot point.